Posted on 07. May, 2009 by Tim in Alloy Wheels, BMW, Honda, Mitsubishi, Nissan, Subaru
It's all about the huge rears hoops out back here.  A staggered fitment basically means that the wheels on the back of the vehicle are wider than the front. 18×8.5 on the front and 18×9.5 or 10 on the rear is the most common setup. This is typically done on rear wheel drive cars such as Skyline, S14, Nissan 350Z, BMW, Mercedes, Audi, VW and other performance cars.
Running wider wheels on the drive wheels means more grip on acceleration, and, from an aesthetic perspective, large lips like Finichi or a bodacious concaveness like the Rota Wheels.
A staggered fitment can rarely mean a larger diameter wheels on rear, like 17″ diameter on the front and 18″ diameter on rear on the Crossfire.
Drifting was defined in the All Japan Touring Car Championship races around 30 years ago.  Bias ply racing tyres of the 70s lent themselves to a sideways driving style. Pro racers in Japan drove this way, so did the street racers.
Drifting these days is judged on line, angle, speed, and show factor. Line involves taking the correct line, which is usually announced beforehand by judges. Angle is the angle of a car in a drift, speed is the speed entering a turn, the speed through a turn, and the speed exiting the turn; faster is better. The show factor is based on multiple things, such as the amount of smoke, how close the car is to the wall, and the crowd's reaction.
Nearly all the cars will be running this setup. Check out the 350z below from the guys at Sumo Power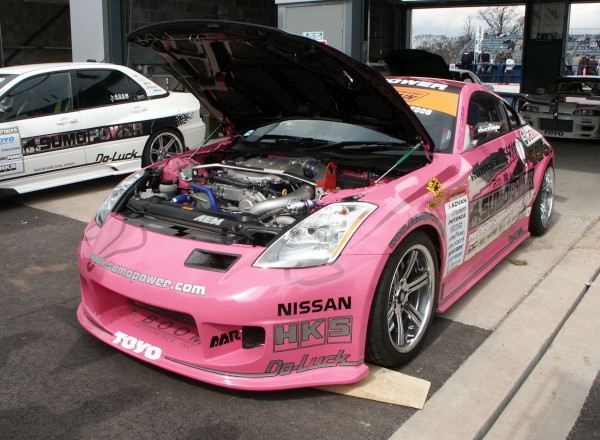 Learn how to Drift.
Do you have what it takes to get a car sideways, under control? Here's a great video to watch for pointers.

Learn To Drift – The most amazing bloopers are here
Hope you like our article on Staggered fitment Drift wheels. Who's fitted a staggered fit to their car? Was it what you were after or did you need to do some extra modifications in your application. We'd really like to know how you got on.