Venair Subaru Impreza 2.0 STI 00 to 07 GD/ Turbo Hose Kit (60000 1090895)
Back to previous page >
POTN Price:
£ 64.59
Delivery Charge:
Free
Delivery Time:
Next Working Day If Ordered Before 4PM
Venair Turbo hoses
The Venair turbo hoses are a great improvement over standard items, both aesthetically and for performance gains. These hose kits will replace your original turbo piping and are great if you have upgraded your turbo and increased pressure from factory settings. OEM rubber hoses tend to inflate and expand when under pressure, the Venair silicone hoses do not do this and so a much more smooth flow of air is delivered as well as a higher volume of air, in addition to this the hoses will reduce air intake temperatures of boosted air which will increase the power output of the vehicle.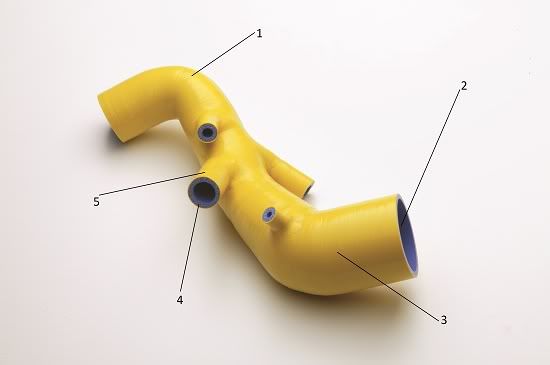 Venair Annotation Description
1. All Venair hose kits are available in many different colours. The usual stock held colours available are red, blue, yellow and black. Other colours are available on request and special order and in most cases will arrive to your door within 4 weeks of order.
2. Unlike cheaper kits on the market, when required a Venair hose will actually have an internal metal coil moulded into the silicone for extra rigidity. This is especially apparent on boost piping etc where a large pressure on boost can inflate a rubber pipe reducing power and consistency. All Venair kits are reinforced with fabric which means all hoses will not flex under pressure.
3. Motorsport quality silicone hoses. Venair is a leading brand in silicone hose technology and are used by many professional level motorsport teams such as Renault Sport and Seat Motorsport. Inferior brand silicone hoses will not be able to withstand the harsh conditions of race use without failing.
4. Unlike inferior hose kits, Venair do not pad out their silicone hoses for strength with fillers. This can be very damaging when kits break under stress. Venair only use the finest automotive silicone which gives suitable strength for all road conditions and motorsport use.
5. All Venair hoses are designed to directly replace their OEM counterparts and include any inserts required for use. Breathers, positioning for dump valves etc (on turbo applications) are all pre moulded as one unit on a Venair silicone hose. Many cheaper kits will not have these available which will render the part useless.
About Venair hoses
Established in 1986, Venair have been producing performance silicone hoses for road and race use with a huge range of varying kits to suit almost any car on the road. Originating in France and Spain, Venair has gained major popularity with motorsport teams and enthusiasts' alike supplying silicone hoses for both Renault Sport and Seat Motorsport. Venair silicone hoses are a fantastic way to improve your engine bay aesthetically with many different colours of each kit being available as well as improving the performance of your hoses by increasing the longevity compared to rubber and especially on turbo boost piping by reducing flex compared to their rubber counterparts giving a more smooth flow of air. We can offer next day delivery on many of our popular kits in a wide range of colours and special orders will usually take 4 weeks to arrive to your order from the date of order.
Why should you buy from POTN Racing?
Unlike the industry norm of charging 10-15% restocking fees, if you do not wish to have the hose kit once received for any reason at all, we will always take the product back and NEVER charge a restocking fee.
We hold a huge range of Venair items in stock in the UK. Unlike many of our competitors we do not wait for you to place an order with us before purchasing the product from their distributor and having it shipped directly. This allows us to be able to deliver most orders within 48 hours of ordering.
We dispatch all orders which you place with us the same day if ordered before 3PM depending on stock.
What payment options are available?
Payment once a filter has been purchased can be made via PayPal, debit/credit card (no extra charge) or bank transfer. Please note for all international orders we can only accept payment via PayPal.
What happens once your order has been placed?
Once an order has been placed with ourselves, the item will immediately be picked from our large selection of stock and processed for shipping. All orders placed before 2PM Monday to Friday will be processed and dispatched the same day. This often allows for next day delivery however orders may to up to 48 hours to arrive at your door. If the item does not arrive within 5 working days please contact our sales team and we will be able to ship a replacement out the same day free of charge to yourself.
How is your item sent?
We use DPD Couriers or Yodel couriers (formerly DHL Domestic). Most of these are delivered on the next working day. All delivery to the UK is free!