Our New Sites
POTN's New Websites
Here at POTN we are always looking to expand our business and improve ourselves in any way possible. A few of our brand websites were very old and fairly out-dated, in which have needed an update or change for some time now. We recently started to rebuild these out-dated websites to improve our sales and make the shopping experience the best it can be for you guys, the customers! We have recently launched 3 of our new websites and are currently working on a fourth.
Calibre Wheel Shop
POTN are officially named distributors for Calibre Wheels in the UK and Europe and we have been selling Calibre Wheels for many years now. We are also the leading retailer of Calibre Wheels with great discounts and offers across the full range of wheels. We have a trained team of experts to ensure you get the correct fitment for your vehicle with next day delivery to the UK and European shipping available too.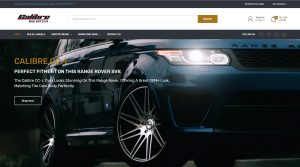 Our old website was extremely out-dated –had not been touched in years and was not generating any sales what so ever. Some of the wheels on the website were discontinued and no longer being made, prices were wrong, no new products were ever added and so the website looked like it was from the early 2000's! It was at this point we decided that was enough, we need to resurrect this brand and get its place back in the market, and so within a few days of work we had completely built a new website for Calibre Wheels and now, it's AMAZING!
There are now hundreds of new wheel designs on the website from 9 wheel brands in total. The website is now much cleaner, with  a more modern look with a featured products section, slide show, knowledge base and many more exclusive features. Generally, the website is more visually pleasing and most importantly easy-to-use.
Visit the Calibre Wheel Shop today and start shopping for the perfect set of new shoes for your vehicle!
Rota Shop
Similar to that of the Calibre Wheels website, our old Rota Wheels website was very out-dated – it was still generating sales and we were still making good money from the website however it could still have done with a good revamp! There were many discontinued products on there and again, no new products were ever added, photos were out-dated and the site just generally needed a heck of a lot of work needed to it. We are the leading retailers of Rota Wheels with great discounts and offers across the full range of wheels, so ensuring our website is up-to-date and user friendly is absolutely key.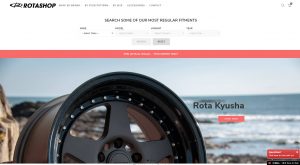 On the site now you can view a slide show, offering new wheels and any current deals or offers, followed by a monthly deals section in which showcases 3 to 5 wheel designs that are on offer for that month, followed by an Instagram section that displays and automatically updates with @rotashop latest Instagram posts. You can also input the details of your car (make, model, variant and year) and you will be shown all the wheels that we offer that will fit your car. You can also shop by wheel size, so if you know you need 17" wheels but are unsure on a design this feature will benefit towards you. We are also now offering 4 different brands of wheels including Rota, 356, 6Performance and Autostar with hundreds of designs under each wheel brand.
Visit the Rota Shop website today and start shopping for the perfect set of alloy wheels for your vehicle!
Ultra Racing Shop
The last website we rebuilt was the Ultra Racing Shop site. Like the previous two, the site looked really old and was again, extremely out-dated. We are best online retailer of Ultra Racing braces for here in the UK. We currently offer strut bars, anti-roll bars, fender bars, floor pan bars and much, much more!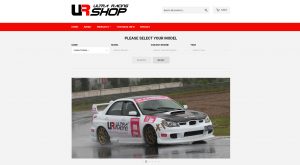 Again, like the other pages it was extremely out-dated however with this some links were broken and pages weren't redirecting you to the correct page on the site. Ultra Racing is a big seller for us and was about time it got an update. The website is now very professional while following the same sort of theme/layout as the other two pages, however this is more information and sales based rather than just purely sales based. Like the Rota website when you land on the home page you will be greeted by a vehicle finder in which you can input your vehicle details and receive a list of all products we offer that will fit your car. Under this is then a slide show of some eye-catching race/drift spec cars to simply draw your attention in to the brand. Following this, there is a section that explains in detail how strut braces and fender bars work and what they are with great amounts of relevant and interesting facts along with some high-quality images of the products. Towards the bottom of the site is an implemented YouTube video that introduces you to the brand and what Ultra Racing are about. There is also a tab on the header menu named 'Technical Info' in which goes into even more detail what affects the handling of the car and how these products will help with detailed diagrams explaining the situation even further.
Visit Ultra Racing Shop today and start shopping our product range to improve the handling and stability of your vehicle!
Enjoy this article? See our previous post here
Visit www.potnshop.co.uk
---
---
---