BILSTEIN Summer Sale – 25% OFF Coilover Kits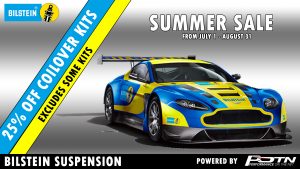 Get close to the road with BILSTEIN. Performance, handling, comfort.
This summer running from July 1st – August 31st BILSTEIN are offering a great discount of 25% off all our coilover kits. This includes the B14 and B16 range, excluding kits for the VW Transporter T5/T6's.  See below for more details.
BILSTEIN Suspension Store:
www.bilsteinsuspensionstore.co.uk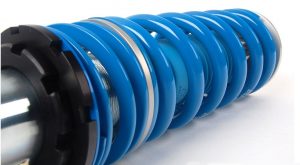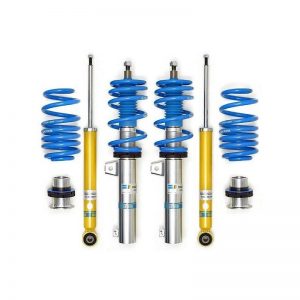 BILSTEIN B14
Bringing race technology from the track to the streets BILSTEIN B14 coilovers offer front and rear lowering from approximately 30 to 50mm. The B14's are a Height Adjustable Coilover Kit, giving you a varying range of adjustability while TUV approved for road use. This kit holds some fascinating features such as the fact it is fully road-tested by BILSTEIN themselves for certification, under race-like conditions and fine-tuned for maximum performance and comfort. The spring plates and lock nuts are made from a special aluminium alloy and coated using Triple-C-Technology for prevention against corrosion.
BILSTEIN B14:
https://www.bilsteinsuspensionstore.co.uk/info-b14-suspensions

BILSTEIN B16
Focused on the individual challenge.
What's unique about the B16 kits is the different settings you can adjust to. There are various different settings to improve your driving experience and comfort while on the road. This kit offers parallel mechanical setting of rebound and compression by a just a twist of a dial. The B16's offer you 10-click settings, giving you 10 ways of adjusting the coilovers to match your driving style and road conditions. B16 Coilovers offer quick and easy damping level adjustment with a robust lightweight design with spring seats and lock rings made from special aluminium alloy.
Extra features:
German TUV certificate
BILSTEIN mono-tube/Upside-Down technology made in Germany
Surface coating using Triple-C-Technology for long-lasting corrosion resistance
Threaded body adjustable range of 20 mm at both axles, while installed
Perfectly adapted to suit series-production electronic adjustment system
Ability to switch rapidly from comfortable, everyday mode to sporty setting for journeys across rural roads and right up to a racing setting for championship sport
BILSTEIN B16:
https://www.bilsteinsuspensionstore.co.uk/info-b16-damptronic
CHECK OUT THE SALE HERE:
www.bilsteinsuspensionstore.co.uk
Enjoy this article? Check out our previous post.
---
---
---