Pipercross Intake with Heatshield | Hyundai i30N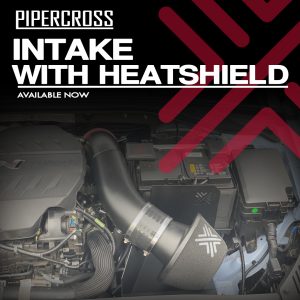 The wait is finally over… After months of production and development, Pipercross have finally released their intake with heatshield for the Hyundai i30N in which is available on our online store or from the Pipercross Shop – links below.
Key Features of the Intake
This long awaited intake kit includes the spun aluminium radius neck filter and full aluminium powder coated heatshield with the Pipercross logo engraved on the side. Many i30N's including our own, run the Forge Motorsport recirculating valve and you may be worrying if the intake will work along side this valve… no need to worry! Forge Motorsport have partnered with Pipercross to ensure you can keep running your recirculating valve with the intake installed for that extra little boost of power (and turbo noise!) What is clever about the intake is that if you want to enjoy a nice cruise without disturbing the peace or breaking your ears you can simply switch the car into N Mode and without boosting the intake has a quieter noise , making everyday driving a pleasure.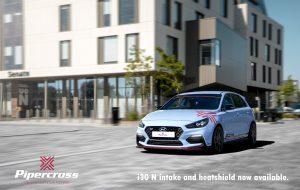 The filter itself comes nicely packaged and oiled up all ready for you to use right of the bat! Air will flow from the foam into the intake, optimising peak performance figures. The intake itself is a 100mm diameter pipe and powder coated in black for guaranteed protection. We have taken this intake in and out the i30N for development and it is the easiest thing to install, it's a direct replacement to the standard OE plastic filter and fits right into the engine bay and includes full, clear instructions for ease of use. What's unique about the intake pipe from anything else is that under development Pipercross majorly focused on the flow pattern of the air, how it travels through the pipe and have altered the dimensions and curvature so the air flows uses the quickest and most efficient line – similar to racing lines on a track. As for the heatshield, Pipercross haven't really changed the way air flows into it as we know it works and works well, this has also been powder coated black for ultimate protection and to match the rest of the intake. The aluminium material used is incredibly strong and will last a life-time.

Why choose Pipercross?
Why would you not? I mean, you're getting a full intake kit that's fully CFD flow checked, been in development for months by professionals plus we have been running this kit on our i30N for a good few months now and have noticed a considerable difference; in power, noise and air flow (the intake produces this beautiful flutter noise under boost – video below) By choosing Pipercross your product will also have life-time warranty, 14 day money back guarantee and improved fuel economy as well as performance. However, just to top things off Pipercross are offering Free UK Delivery and who doesn't love free delivery? When purchasing this kit from the Pipercross Shop (link below) you get the option to include a Remus Exhaust, the Forge Blow-Off Valve and Eibach Pro-Kit for an additional cost but all at one discounted price.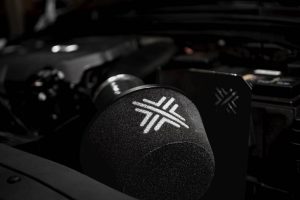 We have posted a full unboxing video of the Intake & Heatshield over on our YouTube Channel (link below) featuring extra details and information missed in this article, explaining air flow and patterns in more detail. The video also includes some extra parts used to connect everything and if you are interested in purchasing in this kit I highly recommend the YouTube video to gain a better understand as to what exactly it is you are purchasing and so you can see how everything will come etc.
**SPECIAL OFFER**
All customers who purchased the replacement filter from The Pipercross Shop will recieve £49.99 off their order. Proof of purchase will be needed in every case.
Product name: Pipercross Performance Induction System PK424 for the Hyundai i30N (2017-)
Product no: PK424
RRP: £349.99 + VAT
Enjoy this article? Check out our previous post here
---
---
---