Eibach release a complete handling package for the 2015 Ford Mustang
American muscle cars are not known for their handling but for their aggressive looks and power, so its great to see Eibach have released a full range of products to improve the suspension. From their ever popular spring ranges to Anti roll bars and alignment products, Eibach have the Mustang covered.
As we all expect with Eibach products they are made to top German standards and come with some lengthy warranty's .
the Eibach Anti-roll bar along with their spring kits, offer an unrivalled handling package
Improve both looks and handling
First up is the legendary Eibach Pro-kit, an up-rated lowering kit enhancing the car's naturally aggressive stance and lowering the centre of gravity to improve handling and any bias to roll. Computer matched to the factory dampers these progressively wound springs work hard to maintain excellent ride quality whilst offering an aesthetically pleasing lowering of 25mm both front and rear.
RRP £276.36 + VAT
35145.140 for the 5.0 V8
35147.140 for the 2.3 Ecoboost and 3.7 V6
5 Year Warranty
For a more extreme look the Eibach Sportline kit offers a drop of 35mm front and 30mm rear. This lowering gives the vehicle a  visibly more aggressive stance whilst the lower centre of gravity and more performance biased spring rates give the vehicle a more 'planted' feel along with reduced body roll. Made from the same grade Hi- tensile steel Eibach uses to produce all their springs including F1 springs. Each spring is pre-stressed to avoid any future sagging before being shot peened and powder coated to protect against even the harshest of winters.
RRP £276.36 + VAT
4.14535 for the 5.0 V8
4.14735 for the 2.3 Ecoboost and 3.7 V6
5 Year Warranty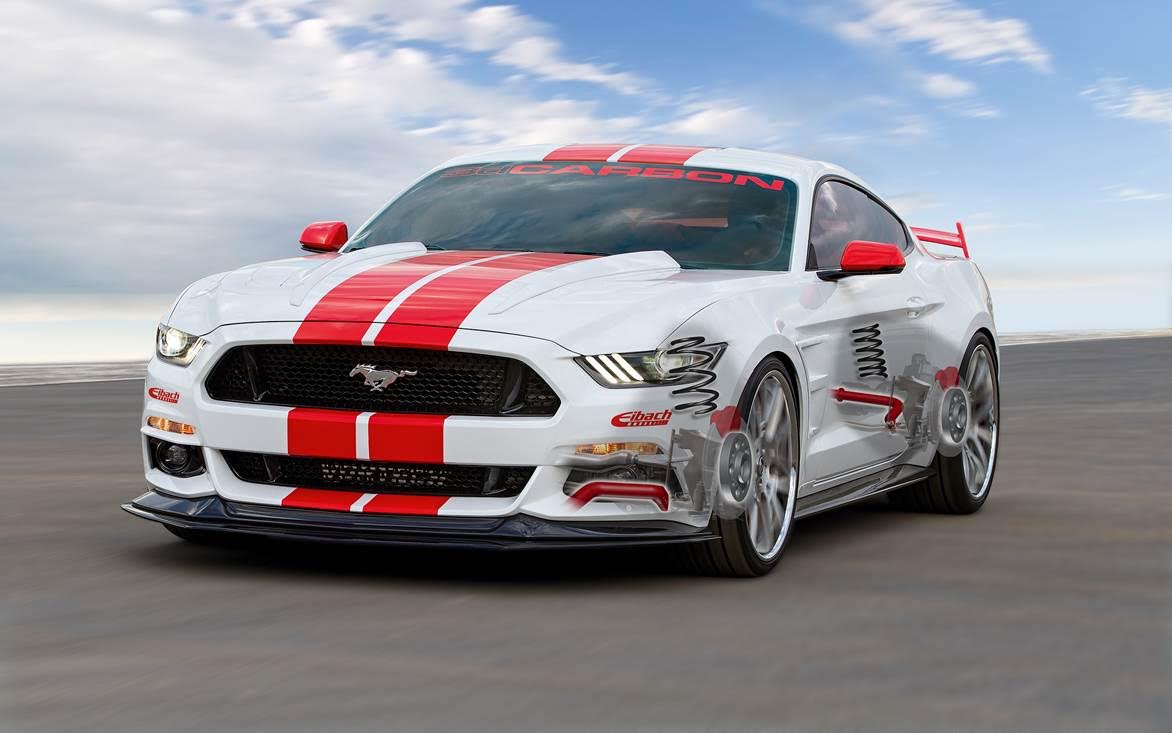 To complete this premium suspension upgrade, the addition of the Eibach Anti-Roll bar kit, will further improve handling and reduce body roll through increased stiffness over the OEM part, with a 35mm front bar and 25mm rear bar. Featuring Eibachs innovative hollow construction, enabling a weight saving of minimum 40% compared to the competition, and with a 3 way adjustability allowing the vehicle to be tailored to the driver's personal driving requirements, the Eibach Anti-roll bar along with their spring kits, offer an unrivalled handling package for this most exciting new UK release.
RRP £458.64 + VAT
35145.320 for all engine sizes
5 Year Warranty on the bars. 1 Year Warranty on the uprated fitting kit
The forgotten enhancements
To further enhance ride and style Eibach offer their Pro-Spacer kit. Engineered from aerospace grade aluminium, the wheel spacers give increased track widening, ranging from 5mm to 35mm per side, not only improving turn-in on cornering but also adding to the overall appearance by spacing out the wheels to fill the wheel arches.
Full TUV approval and 2 year warranty
Call for prices and availability
The Pro-alignment range from Eibach offers further adjustment enabling a fast road or track set up, or back to OEM if desired.  Front camber bolts are available for the S550 providing a further +/- 1.75o of camber adjustment. Continuing the Eibach quality precedent these unassuming bolts can withstand a 700 hour salt spray test which is good news for our UK winters!
Part number 5.81280K
RRP £17.69 + VAT per axle
For more information on these new products or a place which to buy please call 0844 557 9511 or visit www.eibachshop.co.uk
---
---
---