Workers Whips – Betty's E46

Well it's Wednesday and we find ourselves sitting here getting ready for the next edition of "Workers Whips". You my lovely readers, Blog followers, or people just so bored that there is nothing else to do, are in for a right treat. This week we have our Betty's BMW E46 325ci. We have got the questions together as we did last time and gave them to Betty to answer and this is what we got.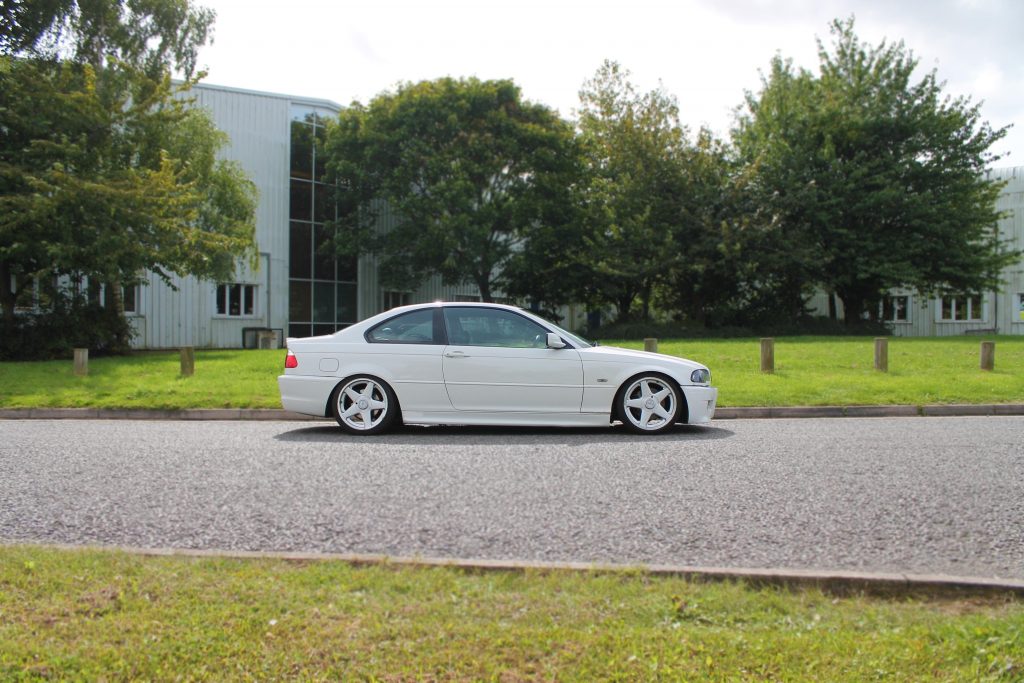 What model is your car?
BMW E46 3 series 325ci
Why did you choose the E46?
The BMW E46 M3 was a car from my childhood, growing up with the car city mats I had a white BMW E46 DTM car. I always loved this shape and find it timeless. My first car was a VW Lupo, love that car and I still have it, kind of my love child (facepalm). I have had that car since I was 16, so I then decided on my 19th birthday to start looking for something more, well how do I put this… manly. So after looking into various VW's the only car I liked was the Golf MK5 R32, and the GTI, but I couldn't afford the price tag with those, or the insurance! I then got a random idea of a BMW E46 and after trawling the sites for a few months, this white BMW 325ci popped up. This instantly gave me visions of my childhood of the White E46 DTM car. Yes, I know it is not an M3 but we can all have visions, right?

What got you into cars?
I'm not entirely sure if I'm honest. Growing up with the strong smell of fuel and exhaust fumes from my dad's garage probably helped I, but that was bikes not cars? I have a strange feeling it has something to do with the old PS2 video games from the likes of Grand Turismo and Forza but most of all, Need for speed Underground  1&2!
What have you done to it?
Not a great deal, the usual 'scene' upgrades, coilovers, Azev A alloys. Working at POTN I know I should probably be running a set of Rotas, but I like the retro's! A few other cosmetic changes such as M3 style front bumper, reason behind that is a crash barrier made me change it so I got what I wanted. I have done the usual, changed the badges, black grilles, LED rear lights, a touch screen satnav stereo and to top it off with everyones favourite, the Max Power style colour changing angel eyes headlights. I have also fitted a Pipercross Viper induction kit, I have to be careful I don't inhale the VW Polos. (Watch out for the next Workers Whips to see if Dangerous Brian's car has survived).
What else is planned/What's next?
Scrap it. Haha I'm not entirely sure what's next. I will probably get the rust sorted out in the wings, get it tidied up and go from there. Obviously I would like to get Airrex and Lay frame  for it but they are not the cheapest of modifications. (We think these are more than worth it though!)

Favourite mod?
I'm not sure to be honest. I love my wheels, but without the lows, the wheels wouldn't look right. So it's down to a combination of everything creating the look together.
How often do you use your indicators?
Still haven't found the stalk yet. (Typical BMW driver).
Dream car?
As always there are a few, if money was no object it would have to be the Mclaren P1 or the Liberty Walk Mclaren 650S after seeing that in the flesh. With money being a factor I would love to own a Mitsubishi Evo 9. (Which we love in the Rota Grids, hint hint)
Thanks for that Jake and with that it brings us to an end of Workers Whips this week, stay following us for the next edition of Workers Whips *QUE MUSIC*
If there is anything you want to know about this blog like a product mentioned or if he is single we will be more then obliged to help email us at sales@potn.co.uk.

---
---
---